CUSTOM ENGINEERING SERVICES
HeatStar by Enerco engineers and manufactures a diverse range of burner styles.  This breadth of technology and engineering know how is at the core of our ability to create custom engineered solutions for your processing needs.   One of our more popular burner types is the infrared style commonly used in food service, agricultural and a wide variety of industrial applications.
Enerco offers customers the resources of a state-of-the-art laboratory at our headquarters in Cleveland, Ohio.  Our facility allows us to duplicate any testing performed by a nationally accredited testing agency such as UL or CSA, assuring our customers' compliance to any applicable standards.
We have over 140 years of combined experience in the field of gas combustion and burner and heater design and engineering.  Examples of engineering assistance we provide include:
Retrofit of burner system in an OEM appliance
Burner application for new product development
Burner recommendation and or layouts for curing and drying applications
Basic conceptual design and burner recommendation for most process heating applications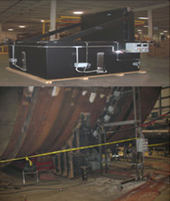 Heatstar by Enerco engineers and develops commercial and industrial heating processes for unique applications such as:
A pair of die heat enclosures for Alcoa, designed to hold a 27,000 lb. die at 800 degrees F.
A portable "heat cart" made as a 32-foot diameter semi-circle lined with infrared heaters.  Chicago Bridge & Iron uses this system to pre and post-heat a steel welding seam in the construction of a coke drum as required by Suncor Energy.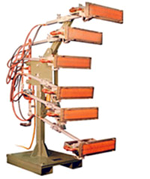 These burners are available in many standard or custom sizes with either commercial grade ceramic or industrial grade inconel mesh emitters.